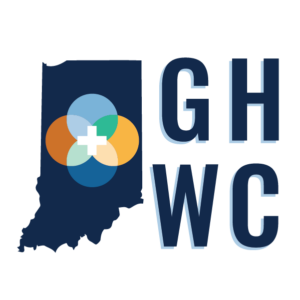 Governor's Health Workforce Council
Governor Mike Pence created the Governor's Health Workforce Council, which is charged with coordinating health workforce-related policies, programs, and initiatives within Indiana in order to reduce cost, improve access, and enhance quality within Indiana's health system. The Council is also focused on developing data-driven health workforce policies to grow Indiana's well-trained health workforce.
Learn More
About
The Council brings together state agencies, legislators, health care experts and industry leaders. It includes members from both the public and private sector, including representatives from the Governor's office and designees from the Department of Workforce Development, Senate Health and Provider Services Committee, House Public Health Committee, Indiana Professional Licensing Agency, Indiana Family and Social Services Administration, Indiana State Department of Health, Indiana Department of Education, Indiana Commission on Higher Education, Bowen Center for Health Workforce Research and Policy, Anthem, Indiana Hospital Association, Indiana Rural Health Association and Indiana Primary Care Association.
Health Workforce Policy and Programming
The following workbook has been developed by the Indiana Governor's Health Workforce Council to serve as an inventory of health workforce policies and programmatic initiatives for the State of Indiana. It has been developed to facilitate connections, synergy, and collaboration between the various health workforce-related initiatives throughout Indiana. 
The workbook has been organized into two separate tabs; the first tab contains initiatives within Indiana state government and the second includes initiatives external to state government.
If you see an error or find an initiative is missing from this list, please let us know at bowenctr@iu.edu.  
Initiative Title
Organization/Entity
Initiative Type (Forum, Incentive Program, Governance Body, etc.)
Health Professions Included
Years
Point of Contact
POC Email
Code/Rule Citation
Primary Care Shortage Area Scholarship
https://www.marian.edu/osteopathic-medical-school/financial-aid/Scholarships
Indiana Commission for Higher Education
Incentive Program
Medical students enrolled at Marian University
2013-present
Julia Ford
jford@marian.edu
IC 21-13-1-9
http://iga.in.gov/legislative/laws/2020/ic/titles/021#21-13-9
Graduate Medical Education (GME) Board
https://www.in.gov/che/boards-and-committees/graduate-medical-education-board/
Commission for Higher Education
Governance Body for GME Funding
Physicians (Post-graduate)
2015-Present
Eugene Johnson
ejohnson@che.in.gov
IC 21-44-7
http://iga.in.gov/legislative/laws/2020/ic/titles/021#21-44-7-2
State Loan Repayment Program (NHSC) / Indiana Health Care Professional Recruitment and Retention Fund Program (IHCPRRF)
https://www.in.gov/isdh/28090.htm
Indiana Department of Health
Incentive Program
Mental health & addiction-related disciplines and primary care physicians
2019-2023
ISDH SLRP team
SLRP@isdh.IN.gov
Medicaid Advisory Committee
https://www.in.gov/fssa/ompp/advisory-committees/medicaid-advisory-committee/
Indiana Office of Medicaid Policy & Planning
Advisory body for state Medicaid Agency
Undetermined
1992-present
Laura Dodson
Laura.Dodson@fssa.in.gov
IC 12-15-33
iga.in.gov/legislative/laws/2019/ic/titles/012/#12-15-33
Medicaid Clinical Advisory Committee
Indiana Office of Medicaid Policy & Planning
Advisory body for state Medicaid Agency
Undetermined
1995-present
Unknown
Unknown
IC 12-15-33.5
http://iga.in.gov/legislative/laws/2020/ic/titles/012#12-15-33
Access Monitoring Review Plan
https://www.in.gov/fssa/ompp/provider-information4/access-monitoring-review-plan/
Indiana Office of Medicaid Policy & Planning
Evaluation of Medicaid providers/access
Providers/Medicaid members
2015-present
Michael Cook
Michael.Cook@fssa.IN.gov
N/A (This document is a deliverable to CMS)
NextLevel Jobs
https://nextleveljobs.org/about/
Indiana Department of Workforce Development
Training incentive program
EMT, dental assisting, paramedic, pharmacy technician, practical nursing, and more
2017-present
Judy Hasselkus
JHasselkus@dwd.IN.gov
Dental Underserved Area and Minority Recruitment Program
https://www.in.gov/pla/dental.htm
Indiana State Board of Dentistry
Incentive program
Dentists, dental hygienists
2009-present
Board staff member
pla8@pla.in.gov
IC 25-14-5-5
https://www.in.gov/pla/files/2011_ISDB(2).pdf
Indiana Behavioral Health Commission
https://www.in.gov/fssa/dmha/indiana-behavioral-health-commission/
Division of Mental Health & Addiction, Family and Social Services Administration
Governance body for DMHA activities
Behavioral health professions
2020-present
Rachel Halleck
Rachel.Halleck@fssa.IN.gov
IC 12-21-7
https://www.in.gov/fssa/dmha/files/Indiana-2020-SB0273-Enrolled.pdf
EMS Commission, Mobile Integrated Healthcare Advisory Committee
https://www.in.gov/dhs/boards-and-commissions/ems-commission/mih-advisory-committee/
Department of Homeland Security
Governance/advisory body
EMS services, specifically those around community paramedicine
2020-present
Dr. Michael Kaufmann
mkaufmann@dhs.in.gov
IC 16-32-1
http://iga.in.gov/legislative/laws/2014/ic/titles/016/articles/031/
Mental Health and Substance Abuse Task Force
https://www.in.gov/children/committees-and-task-forces/mental-health-and-substance-abuse-task-force/
Commission on Improving the Status of Children in Indiana (CISC)
Governance/advisory body
Mental health & addiction service providers
2018-present
Julie Whitman
julie.whitman@courts.in.gov
IC 2-5-36
http://iga.in.gov/legislative/laws/2018/ic/titles/002/#2-5-36
Governor's Workforce Cabinet
https://www.in.gov/gwc/
Governor's Workforce Cabinet
Governance/advisory body, Forum
All workforce initiatives
2018-present
PJ McGrew
PaMcgrew1@gov.IN.gov
IC 4-3-27-3
http://iga.in.gov/legislative/laws/2020/ic/titles/004/#4-3-27-3
Governor's Health Workforce Council
https://www.in.gov/dwd/about-dwd/ghwc/
Governor's Health Workforce Council
Forum
All health occupations
2016-present
Dr. Hannah Maxey
hlmaxey@iupui.edu
Commission to Combat Drug Abuse
https://www.in.gov/recovery/commission.htm#Meeting%20agendas
Next Level Recovery
Forum
All professions
2017-present
Doug Huntsinger
DHuntsinger@gov.IN.gov
IC 4-3-25
http://iga.in.gov/legislative/laws/2020/ic/titles/004#4-3-25
Indiana Data Hub
https://hub.mph.in.gov/
Management and Performance Hub
Agency; Aggregates/analyzes data from various state sources (FSSA, IDOH, CHE, PLA, etc.)
All
2017-present
IC 4-3-26
http://iga.in.gov/legislative/laws/2020/ic/titles/004#4-3-26
All Payer Claims Database
https://www.in.gov/idoa/proc/bids/rfi-21-002/
Department of Insurance
Database
All
2020-present
IC 27-1-44.5
http://iga.in.gov/legislative/laws/2020/ic/titles/027#27-1-44.5
Initiative Title
Organization/Entity
Initiative Type (Forum, Incentive Program, Governance Body, etc.)
Health Professions Included
Years
Point of Contact
POC Email
Motyka Dannin Foundation Scholarship
Indiana Osteopathic Association
Incentive Program
DO Medical Students
2019-present
Tabitha Arnett
tabitha@inosteo.org
https://www.inosteo.org/mdf-scholarship
Council on Workforce Development
Indiana Hospital Association
Forum of members
All
Unknown
Andy VanZee
avanzee@ihaconnect.org
https://www.ihaconnect.org/Workforce/Pages/Workforce.aspx
AHEC Scholars
Indiana Area Health Education Centers
Education and incentive program
All
Unknown
Dr. Jennifer Taylor
jtaylor8@iupui.edu
https://www.indianaahec.org/
ASPIN Opioid Workforce Expansion Program (AOWEP)
ASPIN
Education program
Certified Community Health Workers
2019-present
Kathy Cook
kcook@aspin.org
https://aspinaowep.org/
Human Resources Committee
Indiana Council for Community Mental Health Centers
Forum
Behavioral health professionals working in a CMHC
Unknown
Jill Seifer
jill.seifer@oaklawn.org
https://indianacouncil.org/committees
Rural Opioid Technical Assistance (ROTA)
Purdue University
Education program
Practitioners
Unknown
Stephanie Woodcox
swoodcox@purdue.edu
https://www.samhsa.gov/rural-opioid-technical-assistance-rota
IPHCA Workforce Team
Indiana Primary Care Health Association (IPHCA)
Employment support, policy/advocacy, provider training/technical assistance
All, with a focus on those working in community health centers
Unknown
Natalie Morrison
nmorrison@indianapca.org
https://www.indianapca.org/iphca-workforce/
Indiana Rural Opioid Consortium
Indiana Rural Health Association
Forum, Consortium
Rural professionals
2018-present
Amnah Anwar
aanwar@indianarha.org
https://www.indianaruralhealth.org/services/indiana-rural-opioid-consortium-inroc/
Access/Workforce subcommittee
Indiana Dental Association (IDA)
Forum
Oral health professionals
Unknown
Shane Springer
Shane@INDental.org
https://indental.org/about/councils-committees/access-workforce-subcommittee/
Policy & Provider Committee
Covering Kids & Families of Indiana
Forum
All
Unknown
Mark Fairchild
MFairchild@ckfindiana.org
https://www.ckfindiana.org/public-policy/
Workforce Development Committee
Indiana Health Care Association / Indiana Center for Assisted Living (IHCA/INCAL)
Forum
All workers in long-term care
Unknown
Zach Cattell
zcattell@ihca.org
https://www.ihca.org/our-services/workforce/
Indiana Primary Care Scholarship
Indiana University School of Medicine
Incentive Program
Physicians
1993-present
Dr. Paul Wallach
pwallach@iu.edu
https://medicine.iu.edu/md/tuition/financial-aid/scholarships/primary-care#:~:text=The%20Indiana%20Primary%20Care%20Scholarship,four%20years%20of%20medical%20school
Office of Workforce Alignment
Ivy Tech Community College
Governance Body (academic relationships with industry employers)
Associate degree or lower
Unknown
Mary Anne Sloan
msloan26@ivytech.edu
https://www.ivytech.edu/workforce/index.html
N/A
Bowen Center for Health Workforce Research & Policy
Data and policy research
All, with a focus on licensed professions
2015-present
Dr. Hannah Maxey
hlmaxey@iupui.edu
https://bowenportal.org/
2021 IHCF Scholarships
Indiana Health Care Foundation
Incentive Program
Clinical, medical, and administrative professionals in long-term care
1997-present
Zach Cattell
zcattell@ihca.org
https://www.ihca.org/about-us/ihcf/ihcf-scholarships/
2021 Mini Grants
East Indiana AHEC
Incentive program
All health professionals
2021 (annual cycle)
Jeff Hartz
jeff.hartz@eiahec.org
https://eiahec.org/2020/08/11/mini-grant-applications-open-for-2020-2021/
H-1B Rural Healthcare Grant Program
Tecumseh Area Partnership Inc./Region 4 Workforce Board (via Dept. of Labor)
Incentive Program
All Health professionals
2021-unknown
Roger Feldhaus
rfeldhaus@tap.lafayette.in.us
https://www.dol.gov/sites/dolgov/files/ETA/skillstraining/RH-One-Pager-and-Grant-Award-Abstracts.pdf