About the Bowen Center for Health Workforce Research and Policy
Named in honor of Otis R. Bowen, M.D., former Governor of Indiana, Secretary of Health and Human Services for the United States, Chair of the National Governors Association, and committed family medicine physician, the Bowen Center for Health Workforce Research & Policy is housed in the Indiana University School of Medicine's Department of Family Medicine. Serving alongside stakeholders such as state and federal agencies, nonprofit organizations, academic partners, health professionals, employers, and community advocates, the Bowen Center's work focuses on analyzing complex health sector issues and developing strategic solutions.

Mission:
To advance policies which improve human health and well-being through commitment to service and research contributions.
Vision:
Inform policy. Align initiatives. Advance health.
Commitments:
Equity, transparency, collaboration.
Values:
Integrity, stewardship, engagement.

The Bowen Health Workforce Information Portal (HWIP)
The Bowen Health Workforce Information Portal (HWIP) was developed to allow stakeholders the ability to readily discover, use, and share health workforce information. Additionally, HWIP provides reliable and timely data on Indiana's health workforce in order to support data-driven policy development and to inform decisions at both the state and local levels. The HWIP is maintained by the Bowen Center for Health Workforce Research & Policy at the Indiana University School of Medicine in collaboration with the State of Indiana.
Between May and July of 2016, the Bowen Center conducted an assessment of stakeholders' data access and health workforce mapping needs. Based on needs identified by stakeholders, a data portal from which customized health workforce information would be accessed was prioritized. Technical and functional requirements for the Bowen Health Workforce Information Portal were established with the assistance of an advisory committee composed of executive decision makers from key state agencies, who provided ongoing input on technical and functional requirements, wireframes, and graphic design specifications.
Three major functions were defined during this process: an Interactive Workforce Mapper, a Map Gallery, and a Data Download application. These functional components will provide a solid foundation from which future expansion may occur in order to provide Indiana with timely and relevant health workforce data to inform health workforce policy and planning.
To stay on top of the latest in health workforce research & policy please subscribe to our email list. 
Funding for the Bowen Center
July 2018-June 2019
Transparency is a commitment the Bowen Center takes very seriously, as is stewardship of resources. This year the Bowen Center's total funding amounted to $856,819.78.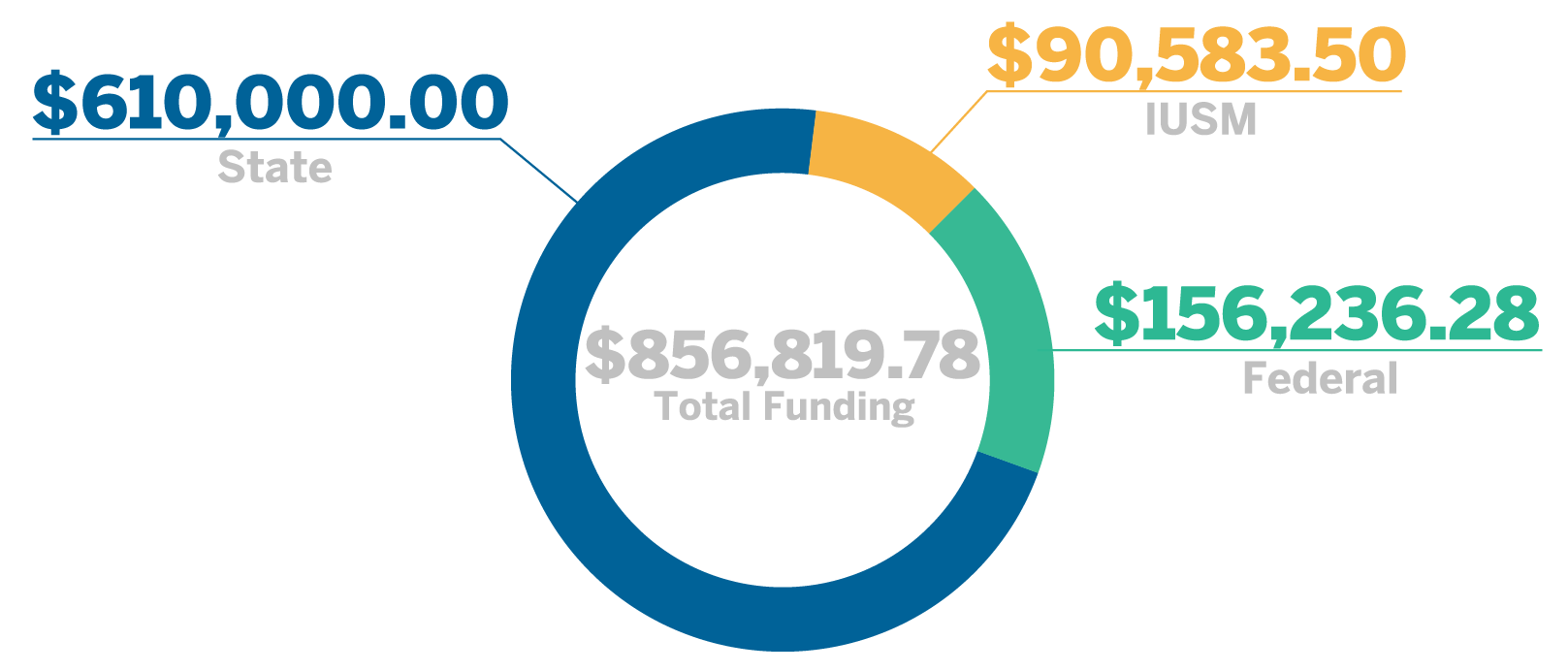 With these funds the Bowen Center produced:
New Health Workforce Supply Reports
Stakeholders Assisted Nationwide
New HPSAs Obtained as a Result of Data Stewardship
View our Annual Impact Report to see the full effect the Bowen Center made in 2019 using these resources.